Hunting in Yakutia.
The Yakut Snow Ram Hunting
Tour Duration: 14 - 15 day(s)
Group Size: 2 - 4 hunters
Destination: Russia, Sakha-Yakutia.
Specialty: Other big game
Season: May - November
Min Price: 6000 Euro (EUR) per trip
Max Price: 6500 Euro (EUR) per trip

The snow ram lives only in Russia (Lat.: Ovis nivicola lydekkeri). This kind of the ram is subdivided into five subspecies:
- Koryak Snow Sheep
- Yakut Show Sheep
- Okhotsk Snow Sheep
- Kamchatka Bighorn
- Putorana Snow Sheep.

Also, there are two non-recognized subspecies of the snow ram. These particular rams are living in mountains of Yablonia and in Chukotka. All of them are isolated from the other subspecies. There are about 40.000 snow rams in Yakut. Sakha-Yakutia has the status of Republic. It is the greatest land in the Russian Federation. Yakutsk is the capital of Sakha-Yakutia. The most part in this Republic is covered by tundra and mountains, and approximately one third of it is located on the Polar area. The land is not occupied a lot and it is possible that there is nobody during walking for many hundreds kilometers. To compare with any other mountain hunting, this hunting by itself does not require the big efforts from hunter's side. However, the good form is always more preferable. They hunt in mountains at the height about from 800 meters to 1500 meters over the sea level. The professional guides, the cook, the translator and the assistant are available in the camp.

Hunting seasons. We are offering you two options of hunting time:
- The first tour is from May, till July
- The second one is from August, till November.

At the end of May and the beginning of July the hunters are usually sitting down and watching near the salted soils (the ground with significant amo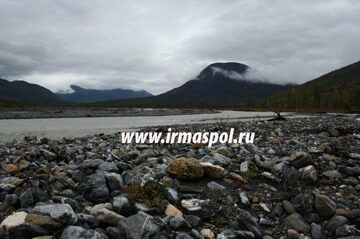 unt of soda and other salts). This kind of hunting is one of the easiest kinds of hunting for the snow ram. That is ram's organism is exhausted without minerals after long winter, thus the rams visit very much willingly these salted places in the afternoon as well as at night. Hunting is possible in the afternoon and at night because this period of the year nights are very light there and so there is good visibility. At this period of hunting we can accept only 2 clients.

Another option of hunting, which is from August, till November, is good time of hunting, too. The most productive period is during the drive time from October, till November. At this period adult males go down from the far regions to females. You will have a chance to choose the largest ram males. The size of a trophy reaches 115 sm, the average is about 80-90 sm. The temperature in October and November on the average is about from -20 C to -30 C, it happens - 40 C. However, this temperature is easy enough because of the dry air.

To facilitate hunting on the snow ram for the clients we send the special hunters to the hunting grounds in advance; so they can look through where the large rams are. Certainly, we can offer for the clients hunting in August, also, but during this period these animals are allocated on all mountains and we cannot guarantee you 100% of success hunting. Although, many organizers of hunting tours use a helicopter for hunting, we have never done this.

During the autumn period we can accept only 4 clients. The cosy well organized heated house is a residential for the hunters. The cook prepares the food based on the Russian cuisine recipe. To reach the hunting grounds we use the cross-country vehicle and this will also facilitate hunting to you. 14 days are for the journey. 10 of them are the hunting days.

Itinerary for June, October and November:

Day 1: Arrival to Moscow and depart to Yakutsk. 6 hours of flight time.

Day 2: Arrival to Yakutsk and the transfer on the car to the hunting grounds. Approximately 9 hours.


Day 3 - 12: Hunting days.

Day 13: Transfer to Yakutsk, spending the night in hotel.

Day 14: Depart to Moscow and to the native land.
Notes:
There is refund when there is no trophy. The price is Euro 2.000,00.
Wound trophy but not caught is considered as a trophy.

Price Includes:
- Meeting and guiding in Moscow
- Helping with official registration of papers at Customs
- Residing in the hunting grounds
- Meal during the hunting time
- An English translator
- The transfer to hunting grounds
- The experienced conductor and hunters
- Processing of trophies and packing.

Price Excludes:
- Flights to Moscow and to Yakutsk
- The visa
- The delivery of the weapon Euro 150,00
- The transfer to Yakutsk to the hunting grounds(for a group is Euro 700,00)
- Residing at the hotels
- Alcohol drinks, cigarettes and personal expenses.
Caribou Hunts & Moose Hunting in Yakutia.
YAKUTIA SNOW SHEEP HUNT
AREA: Yakutia
WAY of HUNTING: on foot
TIME: August 1 to September 20
GROUP SIZE: 2-4 hunters
ACCOMMODATION: tent camp
I T I N E R A R Y
Day 1 arrival in Moscow, overnight
Day 2 fly to Yakutsk, fly by helicopter to the hunting area
Day 3 -12 10 day hunt
Day 13 fly by helicopter to Yakutsk, overnight Yakutsk
Day 14 fly to Moscow, departure Moscow
* Wounded and lost animal - no refund!
ADDITIONAL TROPHIES should be booked before the hunt.
Second sheep
Bear + € 200 CITES
Wolf + € 200 CITES
€ 500 is to be paid up front for every additional big game tag. Non refundable.
After harvesting an animal this amount is taken into account for trophy fee.
Costs include: services of an experienced guide; accommodation and meals in the hunting camp; services of interpreter; helicopter transfer, trophy care in the camp.
Costs exclude: Hotel before and after the hunt in Moscow and Yakutsk; meals and alcoholic beverages in Moscow; internal airfares; alcoholic and carbonated beverages; items of a personal nature,tips,trophy care in Moscow,trophy shipment.
Extra:
1. € 150 Formalities package - an invitation; meeting upon arrival in Moscow; transfer as necessary; services of an experienced guide-interpreter, firearm export/import permit, foreign hunter fee; international veterinary certificate.
2. € 1.250 flight Moscow - Yakutsk and return (economy class) *
€ 3.550 flight Moscow - Yakutsk and return (business class) *
Price for airline tickets is the subject to be changed without special notes.
You have to bring your own sleeping bag!!!
BE ADVISED THAT IF YOU BRING YOUR HUNTING KNIFE WITH YOU, YOU SHOULD INFORM US ABOUT ITS NUMBER!!!