MOOSE HUNT IN RUT
AREA: Yaroslavl':200 -400 km out of Moscow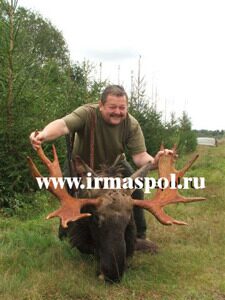 TIME: September 10 to September 25
GROUP SIZE: 1-6, max 3 hunters per camp.
ACCOMMODATION: lodge or hunting house. Accommodation based on a double occupancy.
I T I N E R A R Y
Day 1 arrival in Moscow 4-5 hours drive by car to the hunting area,
accommodation.
Day 2-8 7 day hunt
Day 9 transfer by car to Moscow, departure
Wounded and lost animal - no refund!
For combination moose + bear we recommend 2-3 additional days of hunting.
Term: September 7 to September 17
ADDITIONAL TROPHIES should be booked before the hunt.
Brown bear up to 200 kg
Brown bear over 200 kg
Wolf + € 200 CITES
Wild boar tusks (cm)
up to 14,00
14,01 - 16
16,01- 18
18,01-20,00
20,01 + 15 € for 1 mm over 20,01
piggy
Female
€ 500 is to be paid up front for every additional big game tag. Non refundable.
After harvesting an animal this amount is taken into account for trophy fee.
Costs include: services of an experienced guide; transportation to the hunting area and return; accommodation and meals in the hunting camp; services of interpreter(english and german speaking).
Costs exclude: Hotel before and after the hunt; meals and alcoholic beverages in Moscow or other international gateway; alcoholic and carbonated beverages; items of a personal nature,tips, trophy shipment,taxidermy in Moscow.
Extra:
€ 150 Formalities package : invitation; meeting upon arrival in Moscow, services of an interpreter in Moscow; firearm export/import permit; foreign hunter fee; international veterinary certificate)
!!!! BE ADVISED THAT IF YOU BRING YOUR HUNTING KNIFE WITH YOU, YOU SHOULD INFORM US ABOUT ITS NUMBER!!!